FUJIFILM Medical Systems & MULTI Partner on X-Ray & CT Machines
Innovation, quality and safety breed peace of mind for patients, radiologists, technologists, and administrators.
We help you deliver better outcomes—financial, operational, and clinical—through exceptional image quality, increased patient safety, enhanced workflow, and improved return on investment.
MULTI partnered with FUJIFILM because of their best-in-class radiology, women's health, and surgical solutions. Our partnership includes pre-installation planning, integration, applications, training, and on-site professional services in order to take end-to-end responsibility with confidence on behalf of our customers.
FUJIFILM Digital X-ray Detectors
Enhance workflow and efficiency with reliability, speed, and flexibility.
The FUJIFILM FDR D-EVO II is lightweight and rugged, with smooth surfaces and tapered edges that simplify positioning for the technologist and help increase patient comfort. Features include an IPX-6 fluid resistance rating and patent-pending Hydro AG antibacterial coating that is 99.99%* effective against the most common bacteria and provides 100 times more protection than traditional coatings.
Available with Hydro AG antibacterial coating in 24x30cm, 14x17", and 17x17" to provide "just right" sizing for any exam and to simplify patient positioning, comfort, and safety.
FDR D-EVO III, D-EVO II, FDR ES, and D-EVO GL PANEL.
FUJIFILM Mobile X-Ray Machine
The perfect balance of reliability, maneuverability, and efficiency.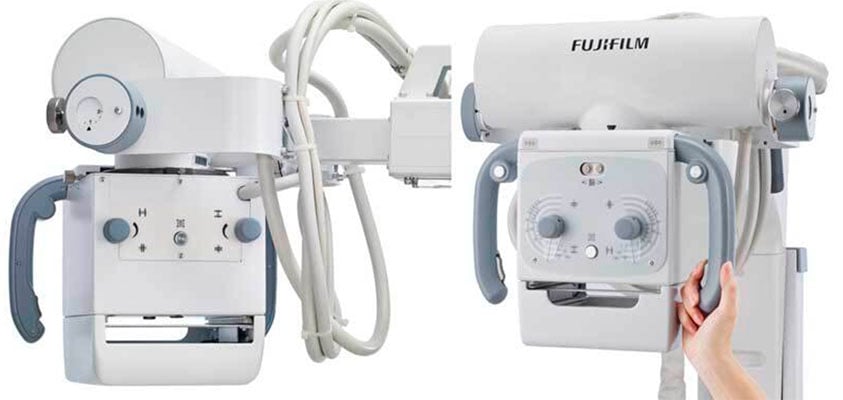 One of the world's smallest, quietest, and most agile full-size portable x-ray platforms, the new FDR Go® PLUS features easy positioning and a retractable tube column for easy viewing while traveling. Enjoy "just right" sizing for any exam and to simplify patient positioning, comfort, and safety.
A revolutionary digital and portable X-ray machine with amazing agility, the FDR AQRO integrates seamlessly with FDR D-EVO II Csl detectors to generate high-resolution images with a low, gentle dose.
FDR GO PLUS, FDR AQRO, and the FDR DR-flex mobile kit
FUJIFILM Digital X-ray Machine
Experience meets innovation.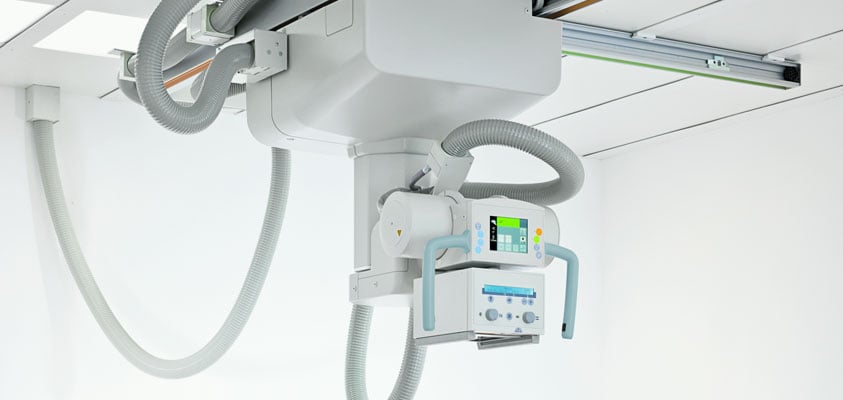 A brilliant fusion of technology, advanced automation, and exceptional image quality, FDR Visionary Suite® offers a superior experience for both patients and technologists. Featuring fully- automated positioning and optional, automated Advance Applications, FDR Visionary Suite quickly captures images with high sharpness and DQE and lightning-fast exam, preview, and cycle times.
FDR D-EVO Suite II offers the perfect balance of automated and grab-and-go manual movements for the speed and dependability needed in the most demanding environments—perfect for ER, trauma, and busy radiology departments.
FDR Clinica® delivers precise images with low dose and enhanced comfort, offering customizability and user-friendly, smart workflow to match busy outpatient imaging demands and budgets.
FDR VISIONARY SUITE, FDR D-EVO SUITE II, FDR D-EVO SUITE FSx, and the FDR CLINICA FS
FUJIFILM Medical: CT Scan Machine
Unparalleled precision, accuracy, and reliability.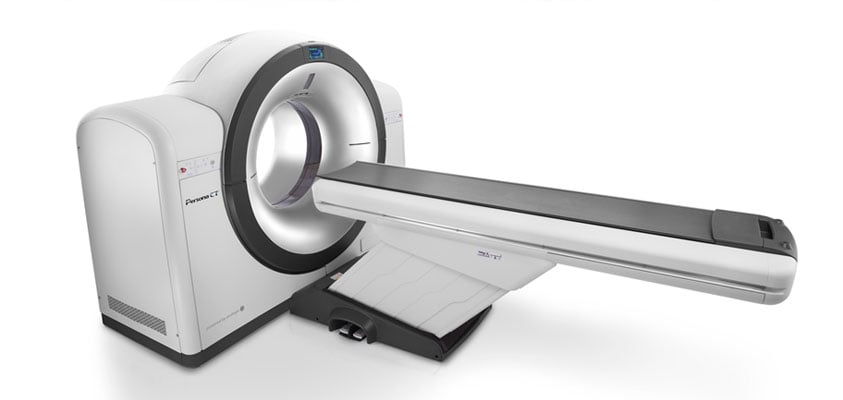 The FUJIFILM Persona CT 85cm CT System represents the latest contribution to radiology and oncology treatment planning. This revolutionary solution offers a scalable platform with high-sensitivity image acquisition technologies designed to streamline workflow and enhance confidence for both patient and provider, every step of the way.
Persona CT 85c is a no-compromise, well-thought-out, scalable solution, designed to simplify every step in the care and treatment of your patients. Offering big performance with a streamlined small footprint, high-sensitivity image acquisition technologies, refined intelligent image processing, and performance and reliability you can trust.
Your patients and team depend on you. You can rest assured that we're working with you to streamline workflow and enhance confidence for both patient and provider, every step of the way.
Contact us today to start a conversation about upgrading to the FUJIFILM Persona CT 85cm CT System
FUJIFILM C-Arm: Mobile CT Medical Machine
Engineered for fast, precise positioning and advanced image quality.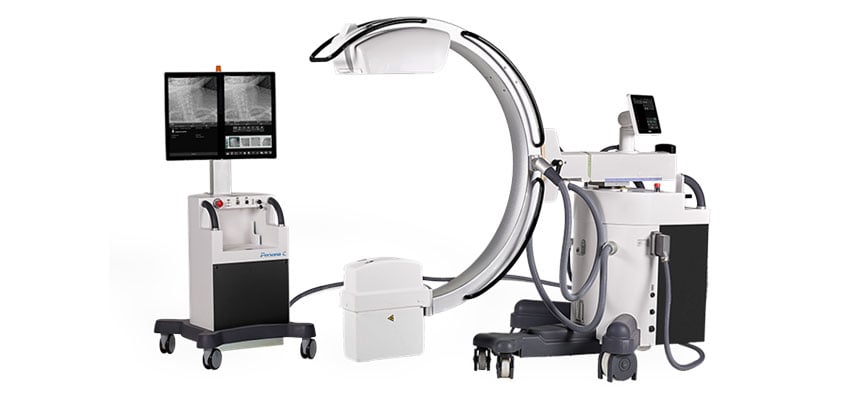 Introducing the Persona C Mobile Fluoroscopy System, available with 21x21cm or 30x30cm amorphous Silicon (aSi) flat panel detector options for ultra-low dose fluoroscopy, and vascular imaging. Featuring a removable grid and dedicated 'radiography mode' for high-quality still imaging, Persona C is designed for easy, precise navigation and imaging across a broad range of diagnostic imaging and minimally invasive surgical procedures.
The operator console is always within reach and directly linked to the surgical procedure. Live or saved images are always shown together with control commands (select, edit, move, send, drag, compress, reduce, expand). Simply touch the icon to enable the function.
Vast orbital rotation range (from +65 ° to –95°) makes for easy oblique projections without having to move the stand around the operating table.
Precise movements and wide angles of more than +/- 210° around and in front of the patient.
Operator comfort is key: the C-arm has a large range of vertical movement (450 mm).
Ask us about the FUJIFILM Persona C Mobile Fluoroscopy System
FUJIFILM Aspire Cristalle for Women's Health
Built smarter. Built with insight.
The ASPIRE® Cristalle® with Digital Breast Tomosynthesis (DBT) was created to provide simplified use and fast image acquisition for optimal workflow, superior diagnostic accuracy for radiologists, and noticeably improved comfort for better patient experiences.
This revolutionary comfort design combined with the newly-approved DBT capability allows ASPIRE Cristalle to provide superior diagnostic accuracy and reduced false-positive callbacks compared to 2D mammography—helping enable doctors to make more accurate diagnoses and helping to save lives.
Contact Us
Contact MULTI today to design your integrated DR solution.